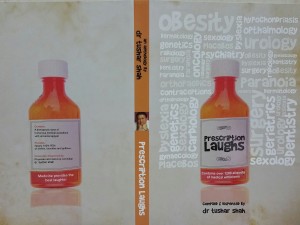 Prescription Laughs is an anthology, a compilation, of humorous quotations related to medicine. The book was published in hard bound form in 2012.
Here is an extract from the foreword to the book which is compiled and edited by dr.tushar shah.
Please be truthful in answering this question. As you picked up this book, wasn't the first thing that crossed your mind that mother of all clichés – 'Laughter is the best medicine'? As a man of both medicine and mirth, allow me to vouch for the incorrectness of the idiom. Cruel as it may sound, laughter is not even close to being the best medicine. If you are having a mild headache, laughter may just about compete with aspirin, but if you are having a heart attack, place your bets on aspirin; unless you want it to be your last laugh.
For me the issue was decided when I put the cliché to test. I told a joke to a hernia. It fell flat. Not hernia. The joke.
On the other hand, I do believe, allowing for some exaggeration, that medicine provides the best laughter. Convincing you of this is the purpose of this book. Let me present this gem by British stand-up comedian Jo Brand- "I used to eat a lot of natural foods until I learned that most people die of natural causes."
This, like many other medical quips, is an original joke. A joke without ancestry.
I believe that, compared to quips on other popular subjects like domestic life, politics etc., medical one-liners have greater originality and novelty. Hence this anthology.
Goethe had said – "Men show their character in nothing more clearly than by what they find laughable." Through this book I reveal my character to you. May be you shall discover a thing or two about yourselves.
Meri kuch hasya kavitayein